Jennifer O'Brien
DPT, CEASII, CHC, CPI, TPI certified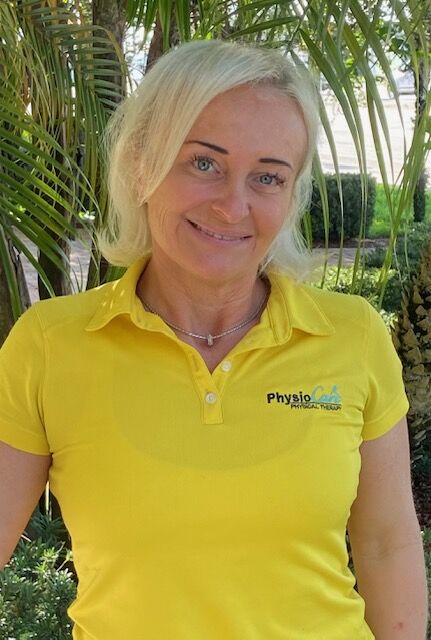 Jennifer is a doctor of physical therapy as well as the clinic director and owner of Physiocare.  She has been a physical therapist since her graduation in 2000 from Arcadia University in Philadelphia, PA.  She was the physical therapist and clinic director of a private practice in Philadelphia until her move to FL in 2010.  From 2010 through 2013 she served as senior physical therapist and ergonomics department supervisor for Jupiter Medical Center as well as ergonomics consultant for Pratt and Whitney.  She became the physical therapist/clinic director for PhysioCare in 2013 and then purchased the practice in 2017.  She is Graston (a type of instrument assisted soft tissue mobilization or IASTM) trained and is certified by the Titleist Performance Institute to perform golf screenings and golf rehab/fitness.  She is also a certified pilates instructor (CPI), TRX and TRX sports medicine instructor, ergonomic assessment specialist (CEASII), and health coach (CHC).
Jennifer enjoys an active lifestyle including crossfit, golf, yoga, and mountain biking. Because she is avid in these activities and follows a healthy lifestyle, she is excellent at getting patients back to a healthy lifestyle and the activities they enjoy.  She has also been a physical therapy patient herself several times, once when she suffered a severe neck injury from being hit by a drunk driver and numerous times as a collegiate soccer player. This firsthand experience in what it is really like to be a patient, experiencing the pain and struggles that must be overcome as well as the compassion and encouragement needed along the way, gave her invaluable experience on how to truly care for and encourage her own physical therapy patients.  Also, because of her experience as an ergonomics consultant, she is able to thoroughly analyze patients' daily activities (positions, etcetera) to get to the cause of their injuries versus solely treating their symptoms with the risk of having symptoms return again in the future if the cause is never addressed.
Beth Stinelli
PT, OCS
Beth is originally from New Jersey, but moved back to Florida from Pittsburgh in 2014.  She has been a physical therapist for more than 25 years, graduating from Ithaca College with a MS in physical therapy in 1998.  She has been an OCS (Orthopedic Certified Specialist) since 2004.  She is highly skilled in manual therapy and regularly incorporates IASTM and/or cupping in her treatments. 
Beth shares her Jupiter Farms home with her husband, a teenager, 3 dogs, 3 cats, chickens, ducks, geese, and a turkey.  In her spare time she loves to go to the gym, take care of her farm animals, and read primarily crime and mystery books.